The Candle Chef
Regular price
Sale price
$14.00
Unit price
per
Sale
Sold out
Step into a world of delicate creativity and sensory enchantment with The Candle Chef LLC's Blueberry Silicone Molds. Available in two carefully crafted variations, these molds are tailored for the true artisan, those who seek a perfect union of form and fragrance. It's not just about crafting candles; it's about weaving stories, memories, and emotions into each blueberry.
Small Mold - 16 Cavity Blueberry: Dive into the art of candle-making with this 16-cavity Blueberry Mold, a testimony to quality, flexibility, and elegance.
High Quality Silicone: Exceptional strength and softness combine, forming a durable yet graceful mold.
Super Flexible: Meticulously designed for adaptability, ensuring a seamless crafting experience.
Easy to Get Out: The joy of crafting is in the details, and each blueberry is released effortlessly and flawlessly.
Score 10 on the Shore Softness Chart: Softness that whispers luxury, resonating with the artistry of The Candle Chef.
Produces 16 Succulent Blueberries: Each cavity is a world unto itself, capturing the essence of nature's finest blueberries.
Suggested Wax: 6028 Paraffin Soy Blend, specially chosen for its harmony with the mold's features.
Exclusive Blueberry Dye from Sozo Essentials: The only dye on the market, specially colored for blueberries, a hue that brings your creations to life with authenticity and charm. Available here.
Large Mold - 35 Cavity Blueberry: A grand canvas for creativity, our 35-cavity Blueberry Mold offers an immersive journey into the heart of sensory delights.
High Quality Silicone: Crafted to reflect excellence and enduring elegance, echoing the passion of The Candle Chef.
Super Flexible: Experience the joy of flexibility as each blueberry takes shape with ease.
Easy to Get Out: Crafted to perfection, unveiling each blueberry becomes a moment of pure delight.
Score 10 on the Shore Softness Chart: A touch of unparalleled softness, celebrating the dedication to quality.
Produces 35 Luscious Blueberries: More than just a mold; it's an artist's playground, each cavity telling its own tale.
Suggested Wax: 6028 Paraffin Soy Blend, a perfect companion for the mold's unique design.
Exclusive Blueberry Dye from Sozo Essentials: Tailored exclusively for blueberry embeds, a specialty of Sozo Essentials, a touch that adds magic to your blueberries.
Craft with Heart, Craft with The Candle Chef LLC Choose the size that speaks to your creative soul and embark on an extraordinary journey with our Blueberry Silicone Molds. Infused with the promise of quality, emotion, and storytelling, these molds are an invitation to a world where artistry transcends boundaries.
Indulge in the magic. Order today and breathe life into your creations with the exclusive Blueberry dye from Sozo Essentials.
Share
View full details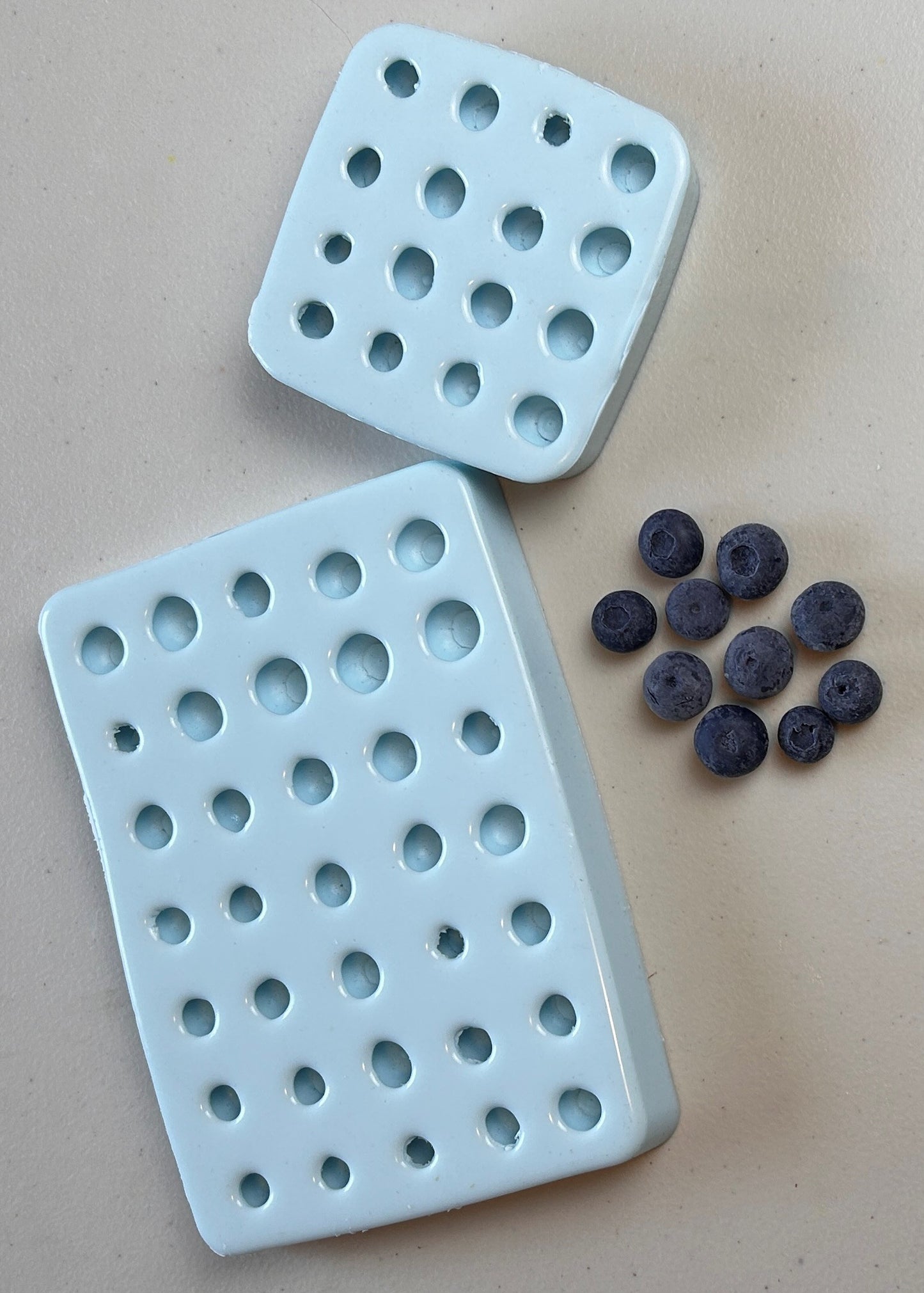 Answer your customers' common questions
List a frequently asked question

Then provide an answer that will help your customer make an informed purchase.
List another frequently asked question
List another frequently asked question